Garage Floor Options!
Professionally Installed.
LIC # GARAGRN853K1
Garage Floor
There are several great options to make your garage floor awesome!  Garage Renovations NW provides our customers in the Seattle, Bellevue, Spokane,  and surrounding areas several versatile garage floor options such as Citadel  Polyurea Floors  and snap-together garage floor tiles.
Citadel Floor Finishing Systems
It is like epoxy, but better!  Polyurea floors are many times stronger than epoxy and can be driven on after a day, instead of a week, resulting in less time with your cars out of your garage.  Garage Renovations NW  has completed Citadel's in-house training program to become a certified installer of Citadel floor coverings, therefore you can be confident that you will get an awesome floor. After assessing your garage, we are able to recommend your best options, which may include a moisture barrier product that is applied before the flooring.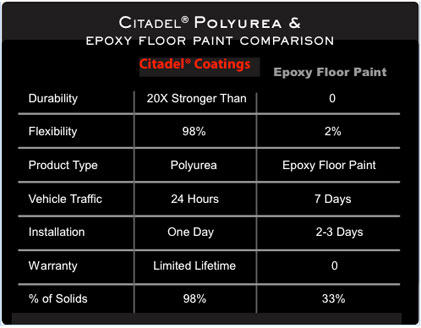 Polyurea is chemically resistant to salt, oil, gas and other harsh chemicals. It's 98% more flexible than epoxy, allowing for natural concrete movement – Polyurea won't crack, peel or be picked up by hot tires (epoxy failure shown above). Polyurea coatings are more durable, install in a much shorter time compared to epoxy coatings.

Polyurea has been utilized for over 25 years in industrial applications such as pipe/pipeline coatings, tank linings, water treatment plants, manholes, sewer linings and automotive fascia OEM molded parts. Traditional Polyurea cures in 5-15 seconds and must be spray applied to ensure proper installation. These kinds of coatings were originally developed and used in the early 1990's. The difference between Polyurea and Citadel's polyurea is Citadel's Revolutionary Industry leading Single Component Polyurea Solutions, which have a longer working time and can be applied using a roller or brush.
Floor Tiles
Floor Tiles feature interlocking systems to make them strong and resistant to movement. The tiles are slip resistant and stain resistant, so your garage can be safe and easy to clean. The tiles are designed to float on the garage floor. The air gap between the floor and the bottom surface of the tiles allows for a free flow of air, which prevents water pooling and mildew growth. Because the tiles come in a variety of colors, your garage floor can be one of a kind – and fun!
Have your seen Jay Leno's Garage?  Have you been in a new car dealership lately?  If so, you have probably seen examples of garage tiles.  These tiles have become very popular for places like showrooms, when you really want to make a good impression.
Great option for new garages as well as existing garages!
If you are not sure which system is best for your garage, a specialist from Garage Renovations NW in Seattle or Spokane can help you develop a garage floor plan that fits your needs and budget.
Bellevue Office                    
Spokane Office
15405 SE 37th Street, Ste 100                    3811 E. Francis Ave. #B
Bellevue, WA 98006                                      Spokane, WA  99217
(206) 739-6434                                                 (509) 474-1746
Installing Garage Floors in:  Seattle, Bellevue, Redmond, Issaquah, Woodinville,Bothel, Kirkland, Renton, Puyallup, Federal Way, Mercer Island, Spokane, Tri-Cities, Yakima, and surrounding areas